Some videos and a touching story to commemorate what is being referred to as Gun Appreciation Day 2013. A day to celebrate the many wonder of owning firearms!
First, one of my favorite Beatles songs, Happiness is a Warm Gun. Hells yes it is! And if John Lennon hadn't been shot dead by a crazy motherfucker named Mark David Chapman back in 1980 near his home in New York City, he might still be belting out this one, maybe on the yearly Beg-Athon on PBS.
Oh and this one is pretty good too. It shows a lot of different people all having loads of fun with their guns and then BLAMMO! One dude inspecting the barrel of his rifle like Elmer Fudd shoots a big hole in the bill of his trucker cap just inches from his skull. The only thing missing is the America's Funniest Videos theme music, although you will enjoy the song in the background straight from the jukebox at the Waffle House.
This is somewhat ironic.. To demonstrate how patriotic they are, a lot of people around the country celebrated their 2nd Amendment rights today by attending gun rallies and gun shows. Well, some people started out at the gun show but ended up in the hospital when a careless law enforcement officer accidentally shot them. OOPS!! Memo to gun show staff: Please make sure the weapons are unloaded before you pull the tie-wrap around the trigger.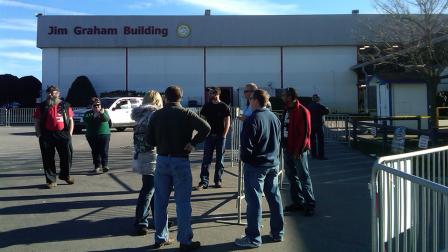 The Dixie Gun and Knife Show was shut down after a shooting Saturday.
(WTVD Photo / Angelica Alvarez)
RALEIGH (WTVD) -- Law enforcement officials have confirmed a shooting at the Dixie Gun and Knife Show at the North Carolina State Fairgrounds Saturday afternoon.
There was no immediate confirmation of the exact number of injuries.
An eyewitness told ABC11 that a person brought a loaded semi-automatic pistol to a security check-in area around 1 p.m. Saturday. The gun owner reportedly removed the gun's slide out magazine, but there was still a round in the gun's chamber. When a law enforcement officer went to secure the weapon with a zip tie through the trigger area and around the grip, the gun went off as the zip tie was pulled tight.
Two or three people were injured. Varying accounts said a person was shot in the hand, another in the arm and possibly a third.
Oh and why not one more.. Earlier today a really stupid guy in Bulgaria who apparently wanted to get his ass kicked six ways to Sunday staged a fake point blank assassination of a politician he clearly doesn't like using an air pistol. No one got the joke.
I am glad that Gun Appreciation Day 2013 such a huge success. I recommend next year that they have a moment of silence for each of the victims of gun violence and gun accidents before the gun loving crowd commences to partying with their best friends, the guns. But of course that would mean Gun Appreciation Day would have to become Gun Appreciation Week for the thousands of moments of silence, interrupted only by drunkass Billy Bobs and Gangsta Wannabe's firing their weapons into the air and through the ceiling in mom's living room.
Update:
If you go to the link I posted above about the accidental shooting at the North Carolina gun show, the story has completely changed without an explanation from the source. So either the original eyewitness account was a total fabrication or the new explanation is a sanitized version. they both can't right.
The Dixie Gun and Knife Show will continue as planned but there will be no private gun sales allowed, and personal guns will not be allowed on property. Gun sales will be allowed only by licensed dealers within the confines of the Jim Graham Building
Agency spokesman Brian Long says a 12-gauge shotgun discharged while its owner, 36-year-old Gary Lynn Wilson, of Wilmington, unzipped its case for a law enforcement officer to check it at a security entrance.
Three people were injured when the gun went off, officials said, including a retired Wake County Sherriff's deputy working the show.
Oh and there were 2 other accidental shootings at gun shows on Gun Appreciation Day 2013. wonderful.
Related Content